The fourth AWARE for All program in the Triangle, NC was held on October 22, 2015 at the UNC- Chapel Hill William and Ida Friday Center. The Triangle community – including the public, patients, health officials, health care and clinical research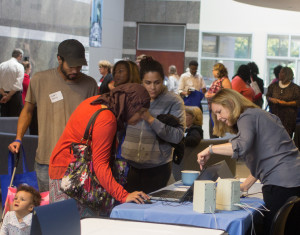 professionals came together to learn about the clinical research process and the vitally important role of study volunteers.
"Most participants are uncertain about the research process and of what to expect before they take part. Ultimately, CISCRP hopes to empower patients and the public to make more informed decisions about clinical research," explained Jill McNair, Director, Education, Outreach and Community Support.
With the help of dedicated community partners, AWARE for All offered a variety of health screenings during the program, including: diabetic foot tests, flu vaccinations, blood pressure, heart/stroke risk assessments, HIV rapid tests, cholesterol, asthma and respiratory, spinal screening with neck and shoulder massage, postural screenings, and chair massages. AWARE also informative presentations by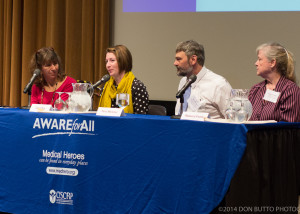 renowned clinical research professionals and local study volunteers. Click here to view the event handbook. At the conclusion of the program, CISCRP held a Medical Heroes Appreciation ceremony to recognize all study volunteers in the NC community.
Generous funding for this event was provided by EMD Serono and the Lupus Research Institute– our 2015 national sponsors – Duke School of Medicine, Rho, Schulman Associates IRB, Walgreens, PMG Research, the Greater Gift Initiative, and Artcraft Health.
"We are proud to support AWARE for All and in doing so, help our diverse communities to reclaim their power and understand ALL their options so that they can make the best decision for themselves and their families," stated Mark Stacy, MD, Professor of Neurology at Duke University.
Please email awareforall@ciscrp.org if you have any questions about this special program, or if you would like to bring AWARE for All to your community.