Research Professionals and the Public to Honor Study Volunteers Who Give the Gift of Participation in Clinical Research
Boston, MA and Alexandria, VA– The Center for Information and Study on Clinical Research Participation (CISCRP) and The Association of Clinical Research Professionals (ACRP), two independent non-profit organizations, are excited to announce the upcoming Medical Heroes Appreciation 5K Run & Walk in Atlanta to celebrate the volunteers who give the gift of participation in clinical research and to raise awareness about the importance of clinical research in advancing public health.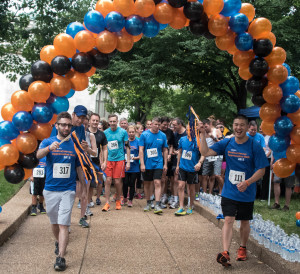 CISCRP will hold the Medical Heroes Appreciation 5K Run & Walk in conjunction with the ACRP 2016 Meeting & Expo. The event will take place on Saturday, April 16, 2016 near the Georgia World Congress Convention Center from 6:30-8:30am. Participants are encouraged to register early as space is limited. To register, visit medhero5k-atlanta.eventbrite.com. On behalf of every 5K registrant, the Greater Gift Initiative will donate a vaccine to a child in need.
"Medical Heroes are the millions of people who help advance public health and medical knowledge by taking part in clinical trials each year," said CISCRP's founder, Ken Getz. "With the support of ACRP, we continue to recognize their gift, raise public awareness, and express our gratitude and admiration through this special event."
Running and walking enthusiasts, and CISCRP and ACRP supporters, are invited to participate and attend the event. Proceeds from the 5K will support education and outreach programs to patients and families interested in learning more about the clinical research process.
"We're proud to partner with CISCRP and host another 5k at our meeting this year. We expect many of our distinguished members and other clinical research professionals to run again in appreciation of the clinical trial participants who make new medical treatments and discoveries possible," says Jim Kremidas, Executive Director, ACRP.
CenterWatch, a leading provider of clinical trials information for both professionals and patients, is the event's official media partner providing additional support in raising awareness about the 5K. "Clinical research volunteers truly are the medical heroes of our industry," said CenterWatch COO, Joan Chambers. "Part of CenterWatch's mission has always been to educate patients on the importance of clinical research so it was without hesitation that we offered our support to promote this exciting event."
Check-in the day of the event begins at 6am; and the 5K Run & Walk will begin at 6:30am. For more information about the event, to volunteer, register or become a sponsor, visit ciscrp.org/medhero5k-atlanta. Questions about event registration should go to Maya Wise (617) 725-2753, e-mail medhero5k@ciscrp.org, or call toll free 1-877-MED-HERO.
**About CISCRP**
CISCRP is a 501(c)(3) non-profit organization dedicated to engaging the public and patients as partners in the clinical research process. CISCRP provides free education and outreach to the general public and patient communities. Visit www.CISCRP.org for more information or to support CISCRP.
**About ACRP**
Based in Alexandria, Va., and founded in 1976, the nonprofit ACRP has a worldwide membership of research professionals dedicated to the safe and ethical conduct of clinical trials across the globe for new drugs, medical devices, and therapies in human subjects. Our mission is to provide global leadership to promote integrity and excellence for the clinical research profession. For more information, visit www.acrpnet.org.
**About CenterWatch**
Since 1994, CenterWatch, has been the recognized global leader in providing clinical trials information to a broad and influential spectrum of clinical research professionals ranging from sponsors and CROs to research sites and niche providers. For more information, visit www.centerwatch.com.