AWARE for All – Northeast | VIRTUAL Event
April 15, 2021 @ 4:30 pm

-

6:00 pm

EDT

Free!
Informational Exhibit Center and Webinar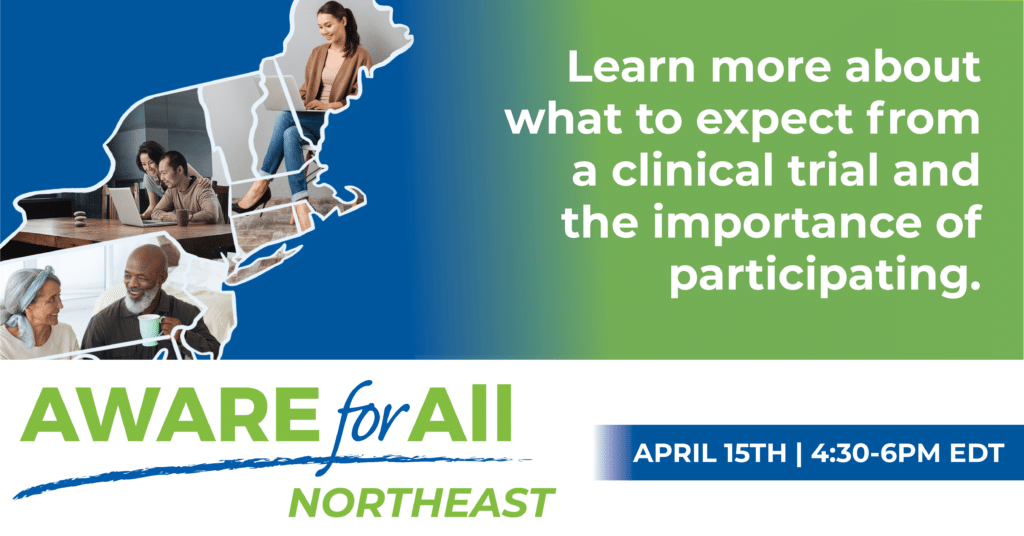 The AWARE for All – Northeast educational event covers the Boston, New York, Washington D.C, and Baltimore areas with a specific focus on these therapeutic areas and medical conditions.
Pulmonary/Asthma
Infectious Disease/Lyme Disease
Neurology/ Parkinson's Disease
Oncology/Cancer
You have an opportunity to visit the Informational Exhibit Center that offers more friendly, informative resources about clinical trials, these specific medical conditions and others, helpful health tips and exercises, and the ability to connect with health and wellness organizations in your own community.
Taking good care of your health is one of the most important things you can do for yourself.
At the AWARE for All – Northeast Webinar and Informational Exhibit Center, you can:
Hear personal stories from patients who participated in clinical trials and why they chose to participate
Listen to healthcare professionals on how they help patients participating in clinical trials
Hear a 5-minute easy health tip
Receive a free downloadable booklet with helpful information about clinical trials—available in English and Spanish
Visit over 30 organizations in the Informational Exhibit Center to learn more about clinical trials for you and/or a loved one, access easy-to-read health information,  read brief stories from patients who participated in a clinical trial, and more.
Download the Event Program Handbook:
Webinar Agenda
4:30 PM—4:35 PM: Welcome from CISCRP
4:35 PM – 4:40 PM: MT Pharmacy Video


Highlights how pharmacy shelves would be 'empty' without clinical trials

4:40 PM—5:10 PM: Overview Presentation + Q&A


Led by Dr. Carmen Guerra, Associate Professor of Medicine, Perelman School of Medicine, University of Pennsylvania

5:10 PM—5:40 PM: Panel Discussion


Donna Matlock, Asthma Trial Participant
Colleen Ziegler, Lung Cancer Trial Participant
Christian Ramirez Martinez, Clinical Research Enrollment Manager, Columbia University/ All of Us
Cathi Thomas, Program Director of the Parkinson Disease and Movement Disorder Center at BUMC and Coordinator of APDA I&R Center
Jamie Houde, EMD Serono
Rodney Winley, CSL Behring

5:40 PM—5:50 PM: Q&A
5:50 PM—5:55 PM: Virtual Health Tips or Exercises
5:55 PM—6:00 PM: Med Hero Ceremony & Raffle*