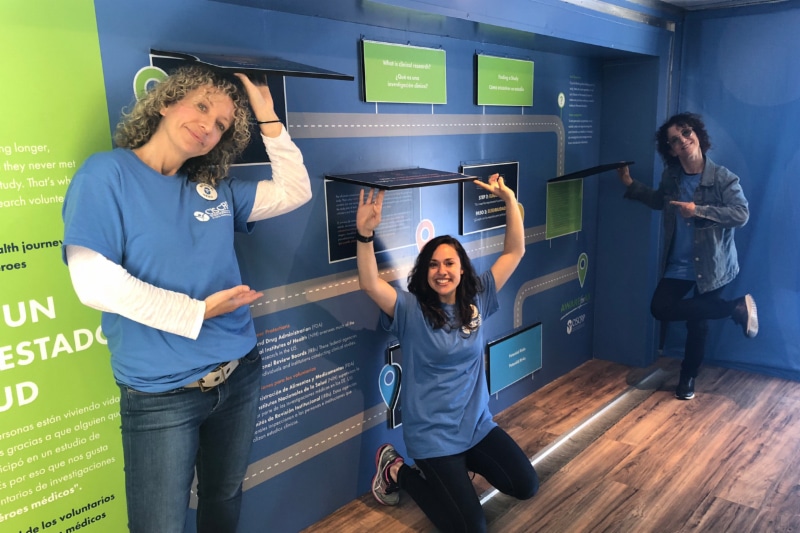 The next generation of The Journey to Better Health mobile exhibit is en route to Atlanta, Charlotte, and New York City this summer and fall, with national support from the Janssen Pharmaceutical Companies of Johnson & Johnson (Janssen). This exhibit is traveling to community events and health fairs, is highly interactive, and is custom-tailored to the communities that it visits.
A growing body of research shows that there are significant disparities in clinical research literacy among minority and underserved communities. Research also shows that the way to reach these communities is to meet them where they live, with local ambassadors to guide them to appropriate educational resources.
In 2018, CISCRP and Janssen tested a new grass-roots outreach program in Los Angeles and brought a traveling exhibit to large community events. Our Journey to Better Health RV contained interactive, educational displays about the clinical research process and its advances in medical knowledge. The RV also provided information for individuals interested in learning more about the clinical research process and participation. Multi-lingual clinical research "navigators" traveled with the RV to answer questions and guide visitors. This engagement campaign culminated in a live AWARE for All: Clinical Research Educational Event with free health screenings, resources, and speakers.
Throughout the process, CISCRP gathered impact measures and continues to learn more about the importance of bringing customized education directly to diverse communities. The RV helped to spread awareness and encourage attendance. CISCRP saw significantly higher numbers of attendees at the AWARE – LA Event and we continue to receive positive feedback from our visitors and requests to bring this traveling educational exhibit to new communities. CISCRP received media coverage that extended our reach and has garnered recognition by the health education community, and we were honored by clinical research professionals at the SCOPE conference as the winner of the Participant Engagement Award.
Building upon momentum generated in 2018 and 2019, CISCRP is establishing a consortium of 7 – 10 companies to support the Journey to Better Health engagement campaign over a five-year period (2020 – 2025). We're hopeful that an educational grant from this consortium will enable CISCRP to produce and implement five AWARE for All: Clinical Research Education Events supported by the Journey to Better Health mobile exhibit per year. Companies participating in this educational consortium will receive prominent visibility and exposure. They will also participate in a steering committee to help identify target cities, monitor progress, and help continuously improve the campaign.
Three companies have already committed to joining the consortium. We invite other companies interested in playing a leadership role in providing education and increasing clinical research literacy among minority and underserved communities to contact us. Please email ellyngetz@ciscrp.org to learn more about how to participate as a sponsor, navigator, or visitor!
Written by Ellyn Getz, Associate Director of Development & Community Engagement