Clinical Research professionals laced up their sneakers and hit the road to recognize Medical Heroes at the 2nd Annual SCRS Run for the Heroes 5K. The event was hosted in collaboration with the Global Site Solutions Summit on October 11. All event proceeds support CISCRP's Medical Heroes campaign to raise awareness of the important contribution made by study volunteers. CISCRP thanks both SCRS and DAC Patient Recruitment Services for their generous support.
"This is our second time sponsoring the walk and we're pleased to do so based on the overwhelmingly posit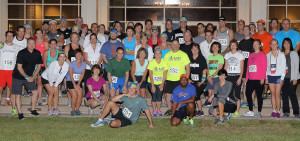 ive feedback and response we received last year," said Steve Swanson, DAC president, Imperial CEO, and member of the SCRS Global Impact Partner board. "DAC is a strong advocate for the patient's perspective in studies. Events that showcase and acknowledge the positive impact of study participation are important opportunities for us to support," he said.
"It's so very important that all of us recognize the millions of people who give the gift of their participation in clinical research each year to advance knowledge about disease and how to treat it," said CISCRP's founder and board chair Ken Getz. "We're grateful to SCRS and DAC for their support of the Walk/Run for the Heroes event ."

This is the fifth Medical Heroes Appreciation 5K to be held in conjunction with a professional conference. These events are a unique opportunity for professionals and members of the public to show their appreciation for clinical research study volunteers. During the past 18 months, a growing number of patients and members of the public have been participating in the Medical Heroes events.
Check out the upcoming Medical Heroes Appreciation 5K events below:
If you are interested in sponsoring or participating in a Medical Heroes Appreciation 5K/Walk in the future, please visit our website and contact ellyngetz@ciscrp.org for more information.