CISCRP offers a variety of educational events and engaging programs within diverse local communities to build clinical trial awareness and participation and to celebrate clinical trial volunteers.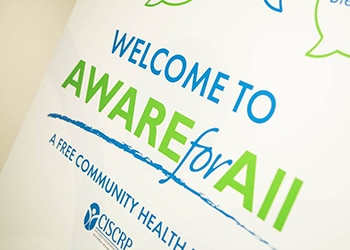 AWARE for All is a free program that aims to educate and empower the public in making informed decisions about clinical research participation.
CISCRP holds events throughout the year to celebrate the people who give the gift of participation in clinical research.
This virtual fitness challenge is designed to motivate you to get up and be active while also bringing awareness to study volunteers who participate in clinical trials and make new medical treatments possible.
Without clinical trials, pharmacy shelves would be empty, and would not carry the necessary medicines and therapies that are used to treat diseases and ailments for millions of people around the world.
A first-of-its-kind experiential portable exhibit equipped with interactive tools, healthcare information and relevant resources, exclusive study data, and knowledgeable experts.
CISCRP hosts highly informative webinars on a variety of topics for both professional and patient/public audiences.
Upcoming Events
Events Search and Views Navigation
November 2021
Free program that aims to educate people about clinical research so they can make informed decisions about their health. This virtual event includes free health exercises, a ceremony to honor clinical research volunteers, and informational presentations that feature community organizations and research organizations, local physicians and patients. The event also includes online raffles. Sign up today to reserve your spot!
Find out more and register »
+ Export Events