CISCRP is an independent non-profit organization dedicated to empowering patients and providing education on clinical trial participation. We do not provide medical advice. Search Clinical Trials utilizes only the baseline criteria requested in the search form. Please consult the study staff regarding your specific eligibility for a study, and consult your doctor regarding any course of treatment. Please do not send medical records.
Search Clinical Trials is a free service designed to help people find clinical trials that are relevant to their needs including those for new treatments and vaccines for COVID-19. CISCRP staff will work with you to understand your options and our staff will help you find local clinical trials in your community, or as far as you would be comfortable traveling.
How to Find a Clinical Trial
Today, there are numerous resources to help find clinical trials. And with more clinical trials being conducted by independent, community-based physicians, there is a far greater chance that primary and specialty care physicians and nurses will be able to help find the right clinical trials. The goal when trying to find a clinical trial is to be as thorough and comprehensive as possible. Every piece of information that is found and every individual along the way could help in tracking down the right clinical trial.
The resources mentioned below can be helpful when trying to find a clinical trial. It can also be useful when family and friends help to find and narrow down options to a few targeted opportunities.
Once a research study is located, it is important to ask the study staff questions about the trial before making the decision to participate.
Online search engines are very beneficial in your search for a clinical trial. You can typically find the most recently updated listing of clinical trials, including clinical studies related to the Coronvirus (COVID-19). There are several disease specific websites that keep up to date lists of current clinical trials for a specific disease or condition.
You can find these organization's websites at https://www.ciscrp.org/education-center/community-organizations/ and contact them to find out if they know about research studies that are enrolling volunteers.
BY PHONE
Sometimes an online search can get overwhelming, or you just aren't getting the results you had hoped. As part of CISCRP's Search Clinical Trials service, you can call 1-877-MED HERO to speak with our staff. We will gather your information, conduct a search for you and email or mail you the results.
RESEARCH CENTERS
Contact a local clinical research center with expertise in your medical condition. Some of these centers may be advertising for trials that are currently recruiting volunteers. Your physician or nurse, and even friends and family, may know of reputable centers. Many research centers have their own websites and they may be linked to academic health centers if they are an affiliate.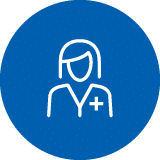 HEALTH PROFESSIONALS
Primary and specialty care physicians and nurses, in particular, may have access to some specialized (and expensive) medical journals and online databases where clinical trials, and study drugs, are routinely discussed topics. These professionals are also worth consulting after you've found some initial sources of information.