Local Partners, Nonprofit Advocates & International Organizations Share Information about Clinical Trials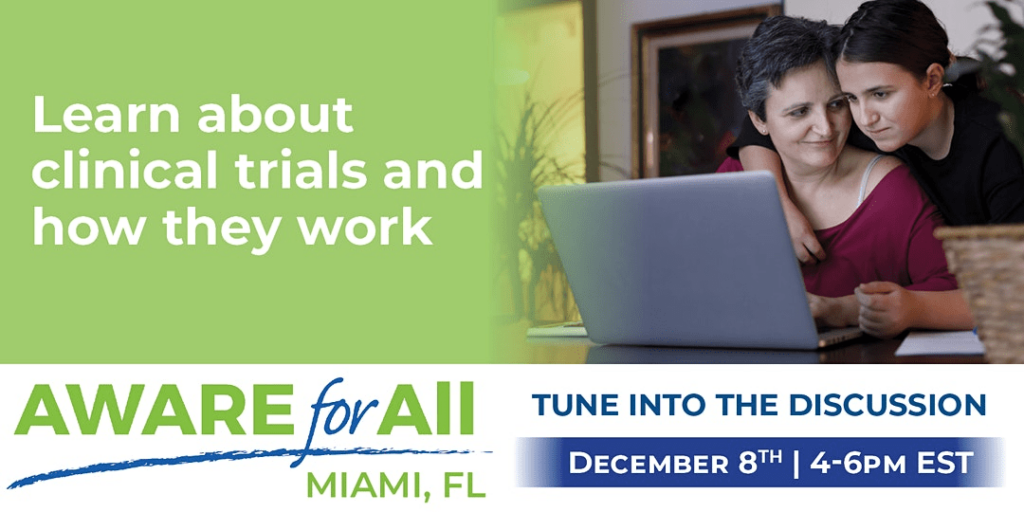 Miami, FL, December 2, 2020— CISCRP (Center for Information and Study on Clinical Research Participation), a non-profit, invites members of the Miami community to attend AWARE for All – Miami, a free, interactive webinar that:
demystifies clinical trials
reveals what the experience is like for participants
reviews the role and responsibilities of involved medical professionals
reinforces the critical role that individuals who participate in clinical trials play in advancing new medicines and treatments
The webinar is scheduled for Tuesday, December 8th, from 4-6pm EDT via a customized, secure online platform.
"The idea of participating in clinical trials is an unfamiliar one, for the vast majority of individuals," said Joan Chambers, Senior Director CISCRP. "Most people first learn about them at the same time they've been diagnosed with a serious illness for which no medication is adequate, or available. There's a rush for patients and their loved ones to navigate this unfamiliar terrain, in order to make the decision to participate – or not. They have to discuss options with their health care providers. Our AWARE for All programs provide vital information and insight, with a local focus, that can help."
During the free webinar, attendees learn about clinical trials straight from the patients and researchers who take part in them with a facilitated conversation and will be able to submit questions via a chatbox during the program. Dr. Rishi Kakar, Chief Scientific Officer & Associate Medical Director, Segal Trials, will be the overview speaker. There will be two 5-minute health assessments, including a breast cancer assessment offered by the Florida Breast Cancer Foundation and a mental health/depression exercise offered by Segal Trials.
A virtual health fair with over 30 local and national health and wellness organizations providing educational resources is also part of the platform.
CISCRP's AWARE for All – Miami program comes at a critically important time. Public interest in learning about clinical trials is high and the need for study volunteers in all disease conditions—including COVID-19 clinical trials—has increased significantly. Led by CISCRP and supported by local research organizations, advocacy groups and a consortium of biopharmaceutical and service provider companies, the educational program is open to all members of the public.
Paulette McDaniels shared that she participates in clinical trials because as an African American woman, she thinks it is important to bring parity to health care. She has participated in studies that focus on osteoporosis, asthma and breast cancer research. "I want to contribute to making health care better for all African Americans," she said.
"At CISCRP, helping patients and the public learn about the importance of clinical research participation is at the heart of our mission. We're extremely excited to be presenting this event with support from a diverse team of stakeholders from the Miami community," said Joan Chambers.
The AWARE for All – Miami supporters include Allergy & Asthma Network, American Kidney Foundation, Arianna's Center, k, Clinical Pharmacology of Miami, Clinical Site Partners, LLC, Debbie's Dream, Florida Breast Cancer Foundation, JDRF, , Lupus Research Alliance, Myovant, NAMI, National Kidney Foundation, National MS Society, Pals for Health, Peoples Science, Segal Trials, Susan G. Komen,  and the AWARE Industry Consortium.
AWARE for All – Miami Clinical Research Webinar will be held Tuesday, December 8th, from 4-6pm EDT.  Attendance is free, but please register today by clicking here. To learn more, visit awareforall.org or call 877-633-4376.
About CISCRP
The Center for Information and Study on Clinical Research Participation (CISCRP) is a 501(c)(3) non-profit organization dedicated to engaging the public and patients as partners in the clinical research process. CISCRP provides free education and outreach to the general public and patient communities. Visit www.CISCRP.org for more information or to participate in CISCRP's educational initiatives. For additional questions about AWARE for All, contact awareforall@ciscrp.org or call 877-633-4376.